Important facts:
The Kingdom of Samoa is a nation founded on the islands of Samoa and American Samoa, which the kingdom claims.
The kingdom was founded by _Toxi on 3/28/2021.
Plans for the archipelago
To create a massive rollercoaster/group of rollercoasters on the island.
To turn Samoa into a place of commerce where players can trade.
To turn Samoa into a place where people can go to relax with their friends.
Claims
Here you can see the claims of the nation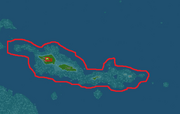 Important links