Panama, officially known as the República de Panamá, is a transcontinental country in Central America and South America. Panama only town and also its capital is Panama City.
War against Eastmarch
The 31st of March, 2021, the nation of Eastmarch launched an uncalled and imperialist siege on Panama City. At the time, Panama wasn't able to answer directly to this attack and Eastmarch had the whole night to capture points for the siege.
However, at the morning, Panama City defense began. While Panama players were underequipped, Eastmarch players were in full netherite armors and defenders couldn't stand a fight against them. So, Panama had to make diplomatic relations with other countries that were in grudge with Eastmarch, such as Svalbard, Denmark, Redwall, in a hope to have a chance to stand against those imperialist invaders.
Svalbard didn't wanted to be directly involved in this war, but provided stuff, such as diamonds, golden apples, heal and strenght potions, gold, food. But to stand against Eastmarch, stuff wasn't enough, and so Panama allied with the United States in hope they would come to help.
The 1st of April, USA and Denmark came at the banner to defend Panama City, handlings various Eastmarch attack. While they were still fight, Panama leader, Lucas_B77, tried to communicate with Eastmarch to understand their motives. Their explanation was that they were moving to South America.
Various allied of Eastmarch also came to the siege, like Madagascar players.
Lucas_B77 tried to convince them to stop the attack, but it failed.
At the end of the day, Panama, thanks to their allies intervention, had control of the banner and had 15.000 points in their favor, destroying Eastmarch effort.
Panama, fearing that Eastmarch would not stop to attack them even with winning the siege, wanted them fully destroyed. They convinced Svalbard, Redwall and Denmark to lead a siege on Eastmarch. Nonetheless, their siege on Eastmarch was brief, as Japan and various other allies of Eastmarch came and destroyed the coalition, thus making them surrendering the same day.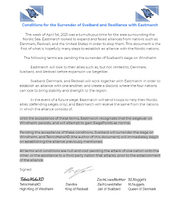 Even though the coalition ( made of Svalbard, Redwall and Denmark ) was defeated and surrendered, they made a peace treaty in which Eastmarch accepted their defeat on Panama City siege and thus will not launch any other attack on Panama. Panama was free of the imperialist doom that was looming and won the war against Eastmarch, with the great help of their allies, ending the war the 3rd of April, 2021.