Jurassic World: Dominion Dominates Fandom Wikis - The Loop
Play Sound

Deutschland (also known as German Reich) is an empire located in Central Europe (within the territories of Germany, Austria, Scotland, Ireland, Norway and Switzerland) with dominions in Cornwall (England) and Berbery (Algeria). This last one having a temporary outpost on Southern France (Nice).
Chronology
27 September 2021 - Plans for making Saxony are drafted
7 November 2021 - Saxony renames to Deutschland
18 November 2021 - Leipzig, Truro and Feldkirch join
19 November 2021 - Linz joins
24 November 2021 - Graz and Warsaw join, Lugano is occupied by SPQR
25 November 2021 - Berbery joins
26 November 2021 - Lugano joins
27 November 2021 - Kiel joins
28 November 2021 - Lsootburg and Trier join
30 November 2021 - Salzburg, Hamburg and Podtatranstvo join
3 December 2021 - Zurich joins
4 December 2021 - Dusseldorf and Munich (Bavaria) join, Wroclaw leaves. Territorial organization is established and a new engineer regiment is created.
5 December 2021 - Battle of Budapest happens. Deutschland and SPQR sign peace.
6 December 2021 - Berlin (DDR) joins, Podtatranstvo is abandoned, Trier declares independence (making Luxembourg) and Zurich is disbanded and claimed by Linz. Laibach is ceded to SPQR
7 December 2021 - Warsaw leaves, Basel, Wolfsburg and Dortmund join.
10 December 2021 - Kazakh joins, ceded by SPQR.
16 December 2021 - New Wolfsburg joins.
17 December 2021 - The Great War begins; Berlin leaves and makes its own nation alongside New Wolfsburg, Hamburg and Munich. Truro, Berbery, Linz and Graz also left.
18 December 2021 - Earth merges with Deutschland so Truro rejoins and the rest of Earth's towns join too.
19 December 2021 - A new flag was voted and Bagel-Land joins.
20 December 2021 - New Wolfsburg, Hamburg and Linz rejoin.
21 December 2021 - Mettingen joins.
25 December 2021 - Krasnodar joins. The rival Germany/German Empire surpasses Deutschland in number of residents as Leipzig is occupied.
26-29 December 2021 - Berbery and Keppleton join
History
Saxony era (September 2021 - November 2021)
Deutschland era (November 2021 - present)
Rivalry with SPQR
Since November 2021, Deutschland has been the biggest rival of SPQR, the other great nation in Europe, also controlling pieces of Asia and some lands of the real life Roman Empire. Despite the rising tensions, not many encounters happened, but the romans sieged Lugano (a german town in Switzerland) in late November. Throughout the month of November, the German Empire extended its borders to Switzerland, Poland and even Slovakia.
In 4 December 2021, Poland was created and Wroclaw casually left Deutschland while the town of Dusseldorf in Western Germany officially joined the empire. In the same day, the Kingdom of Bavaria agreed to merge with the condition of keeping its autonomy over the claimed lands. Thus, the Kaiser grantykied established a network of kingdoms within the empire, first naming DrCope as the King of Cornwalls and Cerzius as the King of Bavaria.
In 5 December 2021, the German Army invades Hungary and the Battle of Budapest happens, ending in a strategic victory and a military defeat. Peace is then signed with SPQR, so Laibach is ceded to them and Kazakh is handed to Deutschland.
Territory organization
In 4 December 2021, the Kaiser grantykied had established a territorial organization based on four kingdoms and two overseas duchies.
Notes: Bold means the capital of that kingdom or duchy, Italic means the town is not controlled yet claimed as part of the territory and Underline means the town's lands are claimed and managed by another town.
Kingdom of Germany (led by grantykied)

Leipzig 👑
Trier
Kiel
Berlin
Hamburg
Lubeck (managed by Leipzig)
Frankfurt
New Wurzburg
L' Sootburg
Dresde (managed by Leipzig)
Dusseldorf

Kingdom of West Austria, Liechtenstein and Switzerland (led by te3t)

Feldkirch 👑
Salzburg
Innsbruck (managed by Graz)
Lugano
Zurich

Kingdom of East Austria (led by Centurion_I )
Kingdom of Bavaria (led by Cerzius)
Duchy of Cornwalls (led by DrConch)
Duchy of Berbery

Berbery 👑
Nice (managed by Berbery)
Political organization
As of 20 December 2021, the Reich has an established system of ministers which help the Kaiser in different tasks:
Bundeskanzler Ministry: helps the other ministers and supervises. Current head: te3t (Feldkirch)
Ministry of Foreign Affairs: helps in relations with other nations and diplomacy. Current head: Held by Kaiser (Leipzig)
Ministry of Infrastructure: helps in improving ways of transport and building. Current head: Centurion_I (Linz)
Ministry of Propaganda: helps in advertising the nation through propaganda. Current head: None
Ministry of Defense: helps in preparing the nation for war. Current head: snivyxox99 (Linz)
Ministry of Engineering: helps in tasks related with redstone. Current head: UtahJazz
This is the hierarchy of the Empire:
Kaiser [Emperor] - leader of the Empire
Konig [King] - leader of one of the kingdoms composing the Empire
Erherzog [Archduke] - leader of the dukes and second in command
Herzog [Duke] - mayors of the towns
Attentater [Assassin] - elite members of the army
Reichsfreiherr [Baron] - comayors of the towns and trusted people
Bewohner [Resident] - residents of the empire
The emperor, konigs, archduke, dukes and barons are all part of an Imperial Council where important decisions are taken. There is also a Senate only for the emperor, kings and archduke.
Army
As of 20 December 2021, the Große Armee (Great Army) is led by NimbKied, being composed of the following ranks:
General - leads the army
Oberst [Colonel] - leads the regiments composed of volunteers
Soldner [Soldier] - volunteers who fight for the empire
Infrastructure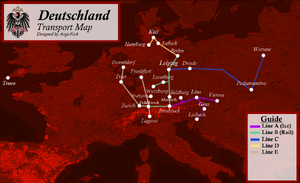 (Outdated map)
Due to the continuous state of war, the German Council is not focusing on developing the infrastructure, but there are plans to make it a more relevant topic as a good iceroad network would definitely have benefits on the nation. The Line A is complete and the Line B is partially functioning.
Town list
Last update: 4 December 2021
In parenthesis, the lands that the original town claimed and are now considered as a separate town. Outposts for mining are not considered as settlements.
Town
Region
Founded
Leaders
Chunks
Residents
Leipzig
Saxony
27/09/2021
grantykied

OkumaraRin

MOOSE_ISH

662
72
Linz

(Vienna)

East Austria
20/10/2021
Centurion_I

snivyxox99

Raag0911

Cap_8

Joge227

803
29
Feldkirch
West Austria
11/10/2021
te3t

TommyPlaysYT

DormantMedusa57

459
46
Salzburg
West Austria
29/11/2021
ArgieNick

FranchuFranchu

IsRakc

186
4
Dusseldorf
West Germany
01/12/2021
synnu
13
4
Warsaw
Poland
18/07/2021
GwiintL
125
1
Hamburg
North Germany
30/11/2021
Jonathaniplayz

JonKali

20
2
Kiel
North Germany
27/11/2021
Hyper11
84
5
L' Sootburg
Saxony
28/11/2021
ItzPlaguester

Corruptedthewolf

Boi100

11
4
Berbery

(Nice)

Algeria

South France

07/11/2021
UtahJazz

CompleteZen

98
6
Truro
Cornwalls
14/11/2021
DrConch

ZeeDerpMaster

139
11